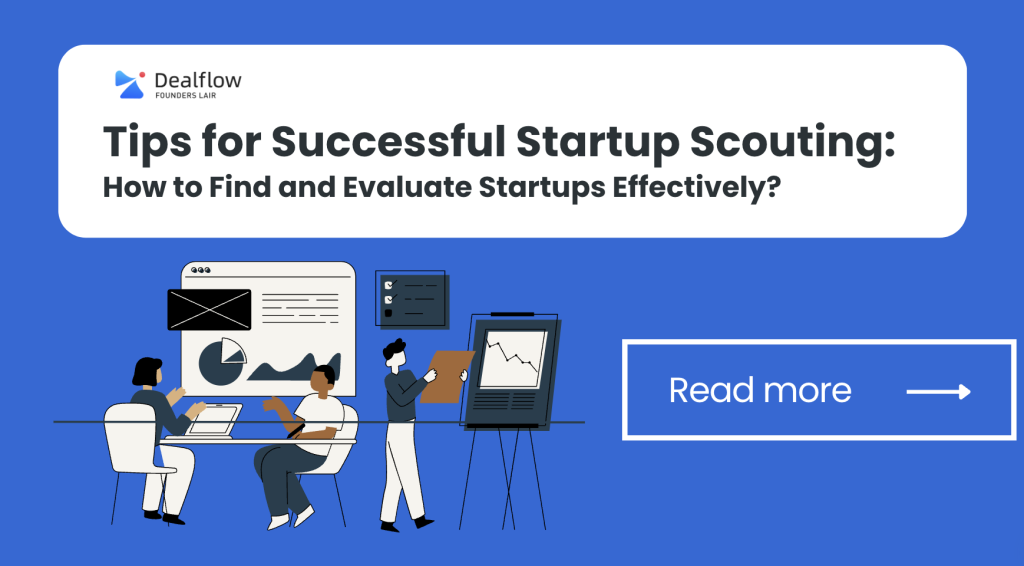 Startup Scouting is a crucial process for companies looking to find innovative and promising startups to collaborate with or invest in. However, with a constantly growing number of startups emerging on the scene, it can be challenging to find and evaluate the right opportunities. In this blog post, we'll be sharing some tips for successful Startup Scouting to help you find and evaluate startups effectively.
Step 1: Understand the environment
To start a successful startup scouting, it's crucial to have a clear understanding of the following factors:
Company goals and values
Industry and market trends
Startups and stakeholders
Government and policies
Competitive landscape
Step 2: Define your criteria
Before you start scouting for startups, it's critical to define your investment or collaboration criteria. Set clear goals, identify your target industries and sectors, and determine what stage of startups you're interested in. Having a clear and well-defined criterion will help you save time and effort by narrowing down your search to startups that meet your requirements.
To define your criteria, ask yourself the following questions:
What are your investment or collaboration goals?
What industries or sectors are you interested in?
What stage of startups are you looking for (early-stage, growth-stage, etc.)?
What geographic regions are you targeting?
Step 3: Use multiple startup sourcing channels
Searching for startups through a single channel is not enough to find the best candidates. Use multiple channels, such as pitch events, incubators, accelerators, online platforms, and personal networks, to increase your chances of finding startups that match your criteria.
Using multiple channels can broaden your search and increase your chances of finding startups that meet your criteria. Some sources to consider include:
Pitch events: Attend pitch events such as demo days or startup competitions to meet and evaluate startups in person.
Incubators and Accelerators: Connect with startup incubators and accelerators to access startups that are being mentored and supported. Here is a website for a list of accelerators or incubators.
Startup database: Use online directories, such as Crunchbase or AngelList, to search for startups that align with your criteria.
Startup scouting platforms: Use a startup scouting platform to boost applications for your program. Such as Dealflow(by Founders Lair) or F6S.
Startup scouting agencies: You can find startup scouting agencies in your target region easily through searching. Here is a list of scouting agencies published by InnoScout
Personal networks: Reach out to your personal and professional networks to find startups that may not be publicly listed.
Step 4: Leverage technology for better startup scouting
Take advantage of the latest technology tools, such as AI-powered sourcing and screening platforms, to automate and streamline your scouting process. These tools can help you identify startups that fit your criteria and provide valuable data and insights that can help you evaluate them effectively.
Technology can play a significant role in streamlining and improving your Startup Scouting process. Some examples of technology tools include:
Startup application management tools
We often see startup scouts use form tools like Airtable or Google Form to collect startup applications. But with open innovation being more common across the world, some tools for streamlining the application process makes things easier, such as Dealflow (by Founders Lair) and Bloomflow.
Communication and collaboration tools
Use communication and collaboration tools, such as Slack or Trello, to manage your Startup Scouting workflow and collaborate with your team effectively.
AI-powered startup sourcing and screening platforms:
These platforms use artificial intelligence to screen and evaluate startups based on specific criteria, such as their business model, team, and traction.
Data and analytics tools:
Use data and analytics tools, such as CB Insights or PitchBook, to gather industry trends and insights and to evaluate the financial health of startups.
Step 5: Evaluate the team
Evaluating the team is a critical factor in determining the potential success of a startup. Some questions to consider when evaluating a startup team include:
What is the founder's background and experience?
Has the team worked together before?
Does the team have the necessary skills to execute their vision?
Are there any gaps in the team's skills?
For example, if you're evaluating a food tech startup, you may want to ensure that the founders have experience in the food industry and that they have a team with expertise in areas such as operations, marketing, and finance. By evaluating the team's skills and experience, you can gain insight into whether the startup has the potential to execute its vision.
Step 6: Analyze the market and competition
Before investing in or collaborating with a startup, it's essential to analyze the market and competition. Research the industry and the market trends, and evaluate the startup's potential to disrupt or dominate the market. Evaluate the startup's competitive landscape and assess its strengths and weaknesses relative to its competitors.
To analyze the market and competition, consider the following questions:
What is the size of the market, and what are the trends and growth potential?
Who are the main competitors, and what differentiates the startup from its competitors?
What are the strengths and weaknesses of the competitors, and how does the startup compare?
What is the startup's potential to disrupt or dominate the market?
For example, if you're evaluating a fintech startup, you may want to analyze the market size and growth potential of the financial services industry and the competition posed by established players such as banks and payment processors. By evaluating the startup's competitive landscape and assessing its potential to disrupt the market, you can gain insight into the startup's potential success.
Step 7: Conduct due diligence
Finally, conduct due diligence to validate and confirm your findings. This step involves conducting background checks, financial analysis, legal review, and reference checks. It's essential to ensure that the startups you're considering are trustworthy and have a good reputation in the industry.
Conducting due diligence entails a thorough investigation of the startup's business, financial, and legal health. Some steps to consider taking include:
Conducting background checks on the team and the startup
Analyzing the startup's financial statements and projections
Reviewing contracts and legal agreements
Conducting reference checks with customers and partners
By conducting due diligence, you can gain a better understanding of the startup's strengths and weaknesses, which can help you make an informed decision about investing in or collaborating with the startup.
Conclusion
Startup Scouting can be a challenging and time-consuming process, but it's essential to find the best opportunities for companies looking to invest in or collaborate with startups. By following these tips, you can effectively find and evaluate startups and increase your chances of success. Remember to set clear criteria, use multiple channels, leverage technology, evaluate the team, analyze the market and competition, and conduct due diligence.
---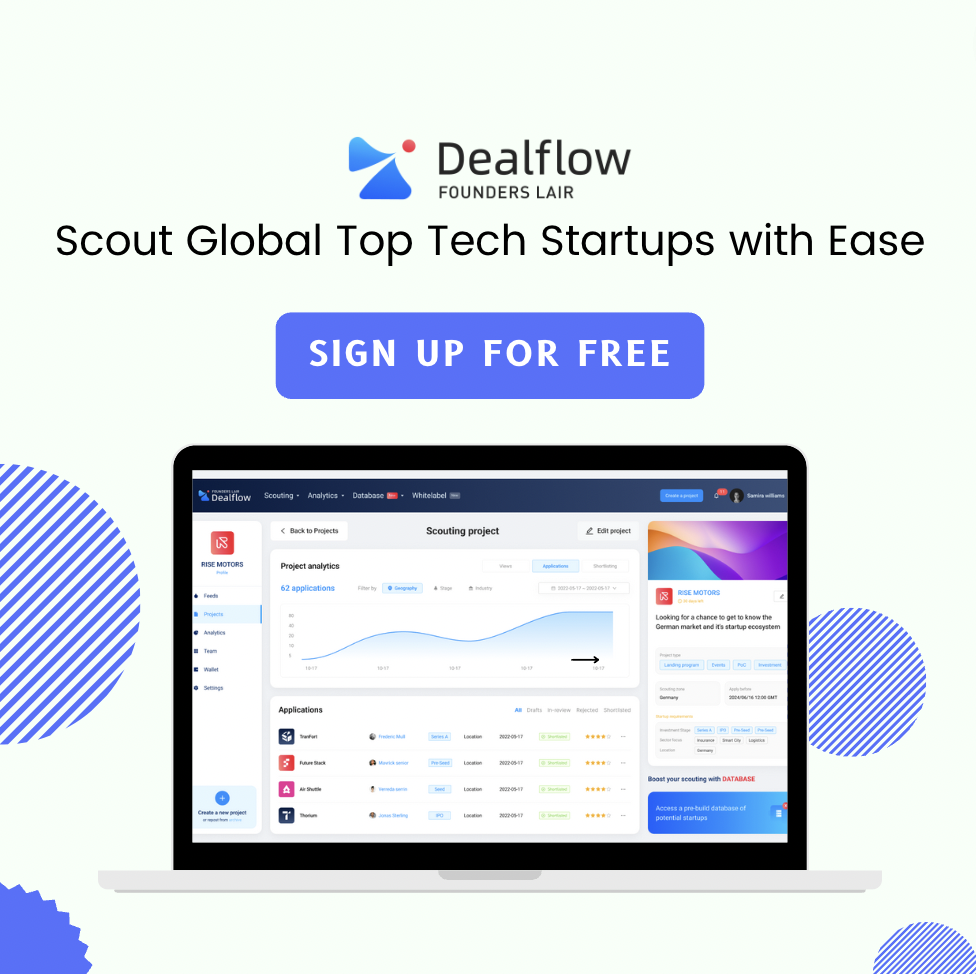 ---
Check out more of our blogs related to startup scouting:
7 Tips for Successful Startup Scouting in China
What is a Startup Scout? A Guide to the Emerging Career Path in 2023
5 Essential Startup Database Tools in China for Startup Scouting