Introduction to the Beijing Startup Ecosystem
Expanding a startup into new markets can be a daunting task, but for ambitious entrepreneurs seeking global opportunities, the Beijing startup ecosystem presents an enticing prospect. With its dynamic environment, robust infrastructure, and supportive policies, Beijing offers a compelling case for international startup founders to consider expanding their ventures into this vibrant city.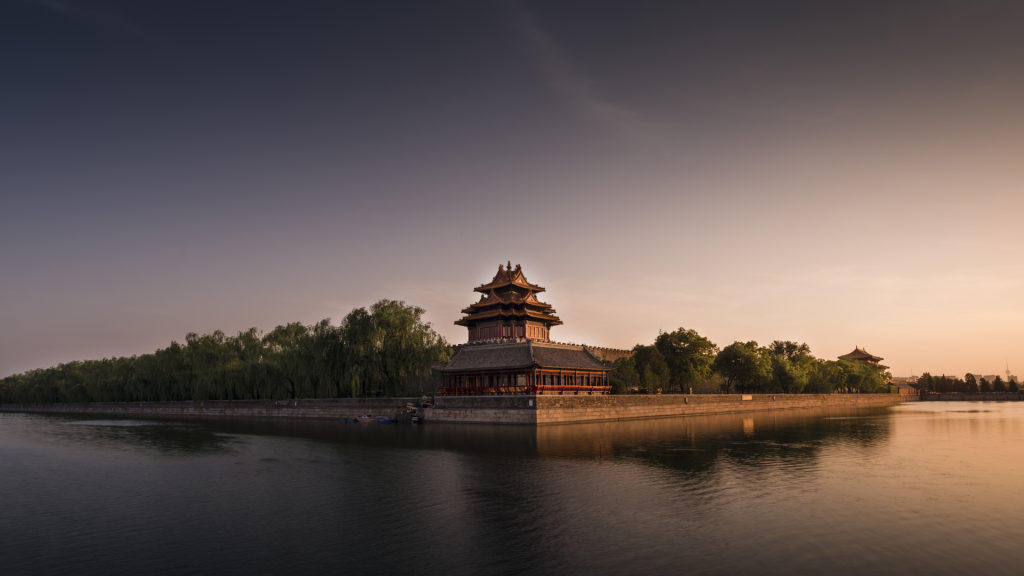 The Beijing Startup Ecosystem in Global Comparison
The Beijing Startup Ecosystem together with Shanghai, has always made it into the top 20 list of global startup ecosystems. The annual report of Startup Genome, one of the largest and most detailed startup ecosystem reports highlights here also the strength of Beijing and Shanghai.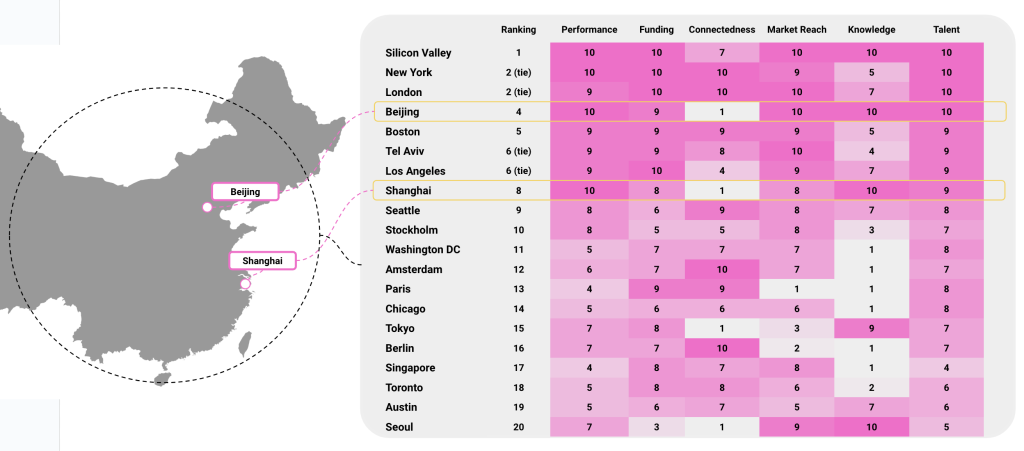 The most important insight from this ranking though is that both Beijing and Shanghai are top in all the segments like funding, market reach, knowledge, and talent, but they rank poorest in connectedness. This is the result of how the report is created. If you ask a founder in Shanghai or Beijing, which other founders they know, and they are all from China, the connectedness is low. Since China is a vast and very local startup ecosystem, most Chinese founders are not really connected to international founders.
Beijing Startup Ecosystem in Comparison to Other First-Tier Cities in China
Beijing, as the capital of China, belongs to one of the four first-tier cities.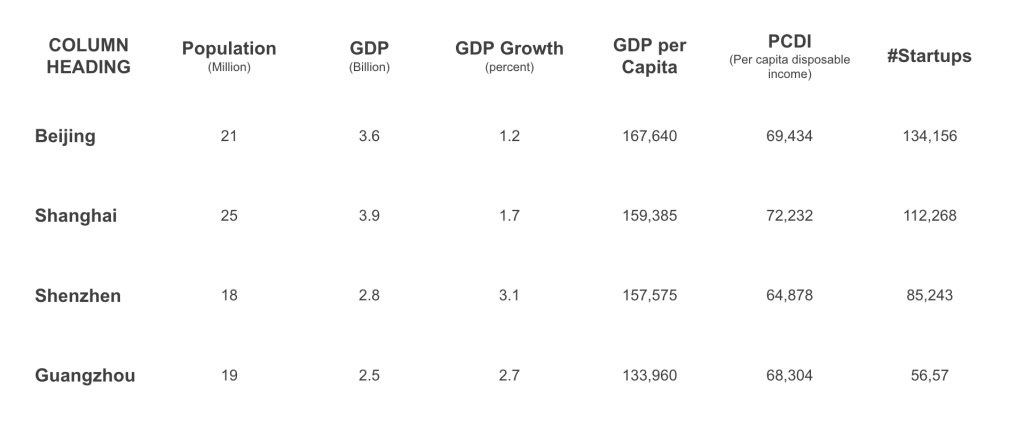 One of the key takeaways from the image above is, that the Beijing Startup Ecosystem is comparable in terms of economic numbers with Shanghai, Shenzhen, and Guangzhou. However, in terms of startups, Beijing ranks first, with over twenty thousand more startups compared to Shanghai, 50 thousand more compared to Shenzhen, and nearly triple the amount compared to Guangzhou. However, Beijing is a settled city, and also the Beijing Startup Ecosystem is older compared to those of Shenzhen and Guangzhou, where entrepreneurship became a trend later. The Shenzhen Startup Ecosystem is on the rise to compete on the same level as Beijing and Shanghai.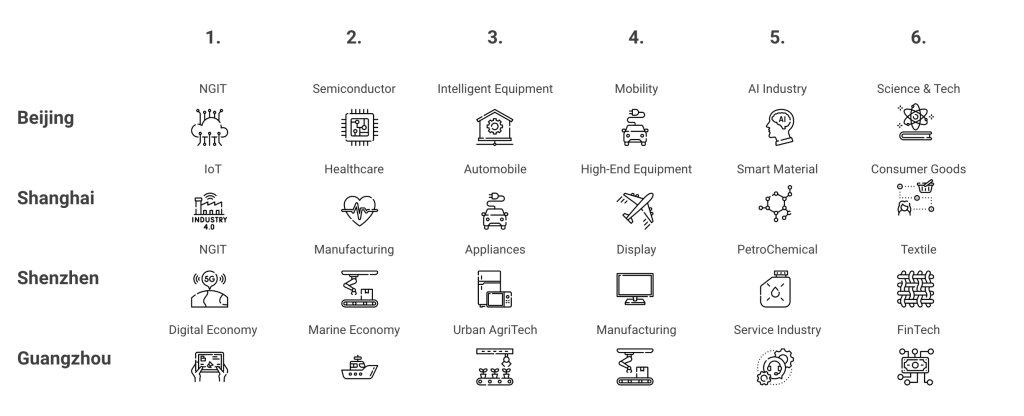 What is the industry focus of the Beijing Startup Ecosystem?
Everyone would like to know which industries or technologies the Beijing Startup Ecosystem is strong at. However, as you have seen in the economic comparison numbers, each of the first-tier cities has the economic power of entire countries in Europe. Beijing has the economic size of the United Emirates, Shanghai can be compared with the Philippines, Shenzhen with Norway, and Guangzhou with Switzerland. The point here is, the first-tier cities in China cover nearly any industry or technology you can imagine, and you will find hardware not just in Shenzhen, but also in Beijing, Shanghai, and Guangzhou.
However, the focus shown in the image above is the strategic directions of the city governments. Beijing in this regard focuses on the Next Generation of IT (NGIT). NGIT refers to the latest advancements and technologies in the field of information technology that are reshaping how businesses use and benefit from technology in more efficient and innovative ways. This includes Cloud computing, Artificial Intelligence and Machine Learning, the Internet of Things (IoT), Cybersecurity and Data Privacy, and Edge Computing.
Other industries and technologies that the Beijing Startup Ecosystem focuses on are semiconductors, intelligent equipment, mobility, deep tech in science and technology.
How can you enter the Beijing Startup Ecosystem and get connected?
What else is there to know about the Beijing Startup Ecosystem?
What else is there to know about the Beijing Startup Ecosystem?
Flourishing Innovation and Entrepreneurship
Beijing has emerged as a powerhouse for innovation and entrepreneurship, fostering a vibrant ecosystem that attracts and nurtures startups from around the world. The city is home to a vast pool of talented individuals, including tech-savvy professionals and forward-thinking investors. Beijing's culture of innovation is fueled by its numerous world-class universities, research institutions, and technology parks, providing ample opportunities for collaboration, knowledge exchange, and talent acquisition.
Access to Lucrative Markets
Expanding to Beijing offers international startup founders access to one of the world's largest and fastest-growing consumer markets. With a population exceeding 21 million and a rising middle class hungry for innovative products and services, Beijing provides a ready customer base for startups seeking to scale their operations. Furthermore, Beijing's strategic location within China's vast domestic market and its proximity to other Asian markets make it an ideal launchpad for regional expansion.
Supportive Policies and Infrastructure
The Chinese government has implemented a range of policies and initiatives to foster the growth of startups in Beijing. These include tax incentives, access to funding, streamlined registration procedures, and supportive regulations for foreign entrepreneurs. Additionally, Beijing boasts excellent physical and digital infrastructure, including high-speed internet connectivity, modern co-working spaces, and a well-developed transportation system. These factors contribute to a conducive environment for startups to thrive and make the process of setting up and running a business more efficient and streamlined.
Abundant Funding Opportunities
Beijing's startup ecosystem offers a wealth of funding opportunities for international founders. The city is home to numerous venture capital firms, angel investors, and government-backed funds actively seeking innovative startups to invest in. Beijing also hosts a multitude of startup competitions, pitch events, and incubator programs that provide valuable exposure and access to potential investors. The abundance of funding options ensures that entrepreneurs can secure the necessary capital to fuel their growth and realize their expansion plans.
Conclusion
Beijing's startup ecosystem offers international founders a compelling platform for expansion, combining a vibrant culture of innovation, access to lucrative markets, supportive policies, and abundant funding opportunities. With its dynamic environment and world-class infrastructure, Beijing has positioned itself as a global hub for startups, making it an attractive destination for ambitious entrepreneurs looking to scale their ventures on an international stage.