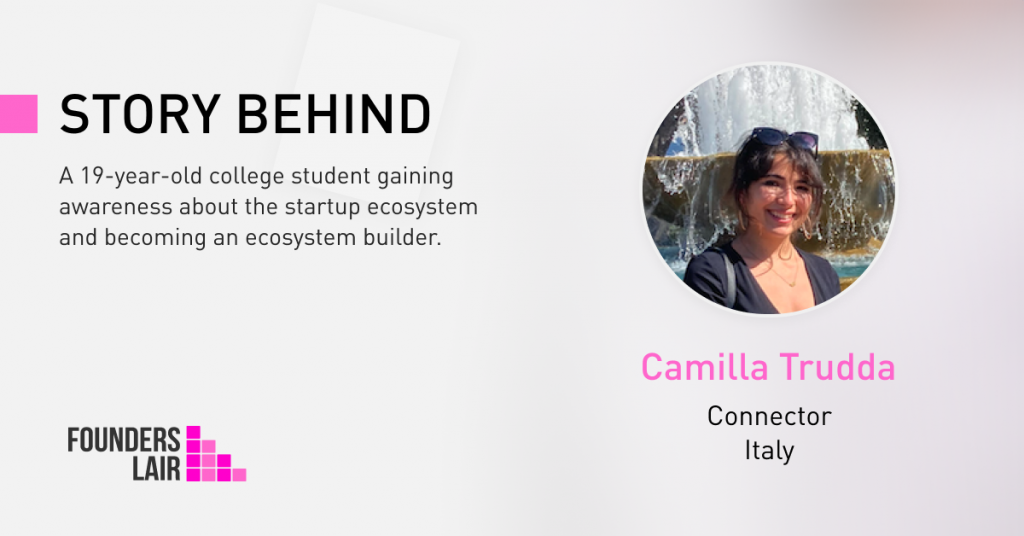 Camilla Trudda, a 19-year-old rising sophomore at University of Southern California. Born and raised in Italy, she has gained global experiences having studied and lived in three different continents across Europe, Oceania and North America. She has most recently added Asia as her summer destination in Seoul, South Korea, as an intern at Founders Lair. During her time in college, she did not have much experience with the startup ecosystem. In fact, before moving to Seoul, becoming an ecosystem builder was not even on her checklist. While being young and still exploring her future career paths, being a connector was her first true experience interacting so closely with the startup ecosystem.
"As I am still young, I do not have much work experience, but being a connector made me gain awareness about the startup ecosystem and its innovative nature."
For Camilla, becoming an ecosystem builder means creating connections with interesting and successful startups from all over the world. She wants to understand more about the startup ecosystem, and is keen to offer various ways for companies to maximize opportunities and help them scale up to the next level. Camilla finds that making new connections not only enriches her personal network, she also never expected the processes of becoming a connector to be so rewarding.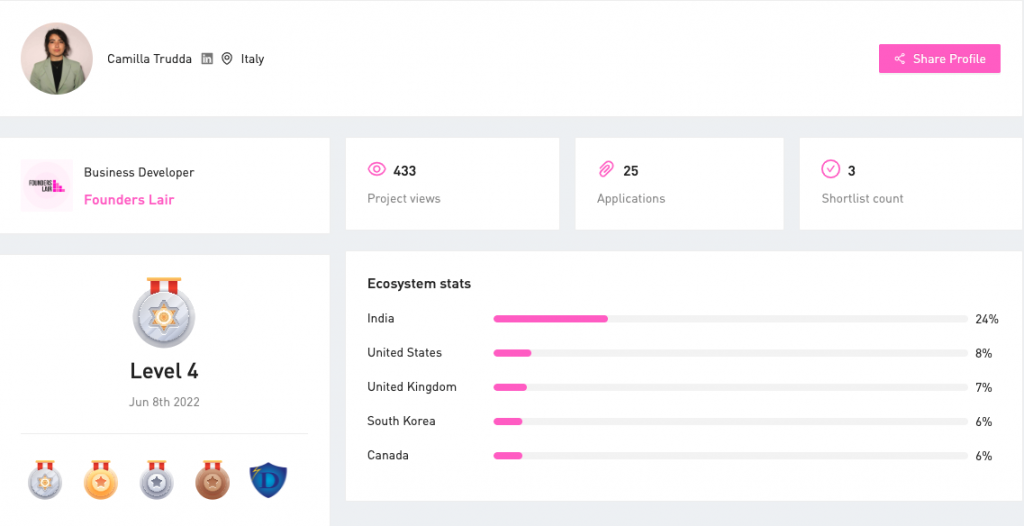 How did you get to a Level 4 in just under a month?
First, I get recognition for my efforts in the platform, and I can see my statistics, connector level, and the status of my current recommendations. That encourages me to deepen my ecosystem more and more, make those statistics better, and even compete against other connectors. In just under a month, I have generated 400 views by sharing projects, connected startups in more than 5 countries, and currently have 25 pending and 3 shortlisted projects. Second, I get the satisfaction from hearing from the startups I have helped and knowing that I have made an impact in their business and given them the possibility to gain new and exciting opportunities. So many startups have told me they were thankful I connected them to that opportunity, and that they found value in what Founders Lair and its connectors were doing.
What is your tool of communication with these startups?
In terms of how I do it, I usually reach out to startups individually based on the project's sector focus. For instance, I have gained more than 500 new LinkedIn connections by sharing the projects to startups that qualify for the project requirements. However, the more I create my network over time, the more I reach out personally to startups I have talked to in the past, and share new and exciting projects in addition to the ones I had forwarded previously.
As a college student with limited work experience, what are some of the bottlenecks you've encountered?
One of the conflicts I have encountered as a connector was that I did not have a vast enough network to recommend the projects to startups. I came from a college background, with barely any work experience, and therefore not knowing enough people in the startup ecosystem to act as a valuable connector. Another challenge still associates to being young, was the lack of credibility as a connector, especially at the beginning when I do cold outreach to founders. I believed I sounded unprofessional, and it was evident I did not know much about the environment I was trying to insert myself in.
How did you overcome these bottlenecks?
I overcame the first conflict by simply reaching out to new people and putting myself out there. I do research on the founder's and startup background before reaching out, making sure they were the right fit for the project. Then, I would explain what the project was about, and why I thought they would be a good fit for it. If they decided to apply, I encouraged them to ask me questions and to keep in touch with me. Many still reach out back to me to this day asking for more opportunities and I feel like I have really found a valuable network in the industries I am interested in through Founders Lair.
For my second challenge, I realized that I could always ask for help and guidance to the rest of Founders Lair's team and other connectors. Every single member of the Founders Lair community is really caring and supportive, knowing I was part of a community made me much more confident in my own abilities, and over time I found it easier to reach out to people by myself and explain what I was sharing and why was I sharing it.
After all, practice helped me get clarity about the startup ecosystem, and realize that at the end of the day I am being a connector to help startups, and not the other way around. When I started acting on this attitude, I actually found that startup owners would not look down on me because of my age or experience but would rather be grateful for the opportunities I provided them with and would be impressed by my commitment to be part of the ecosystem.